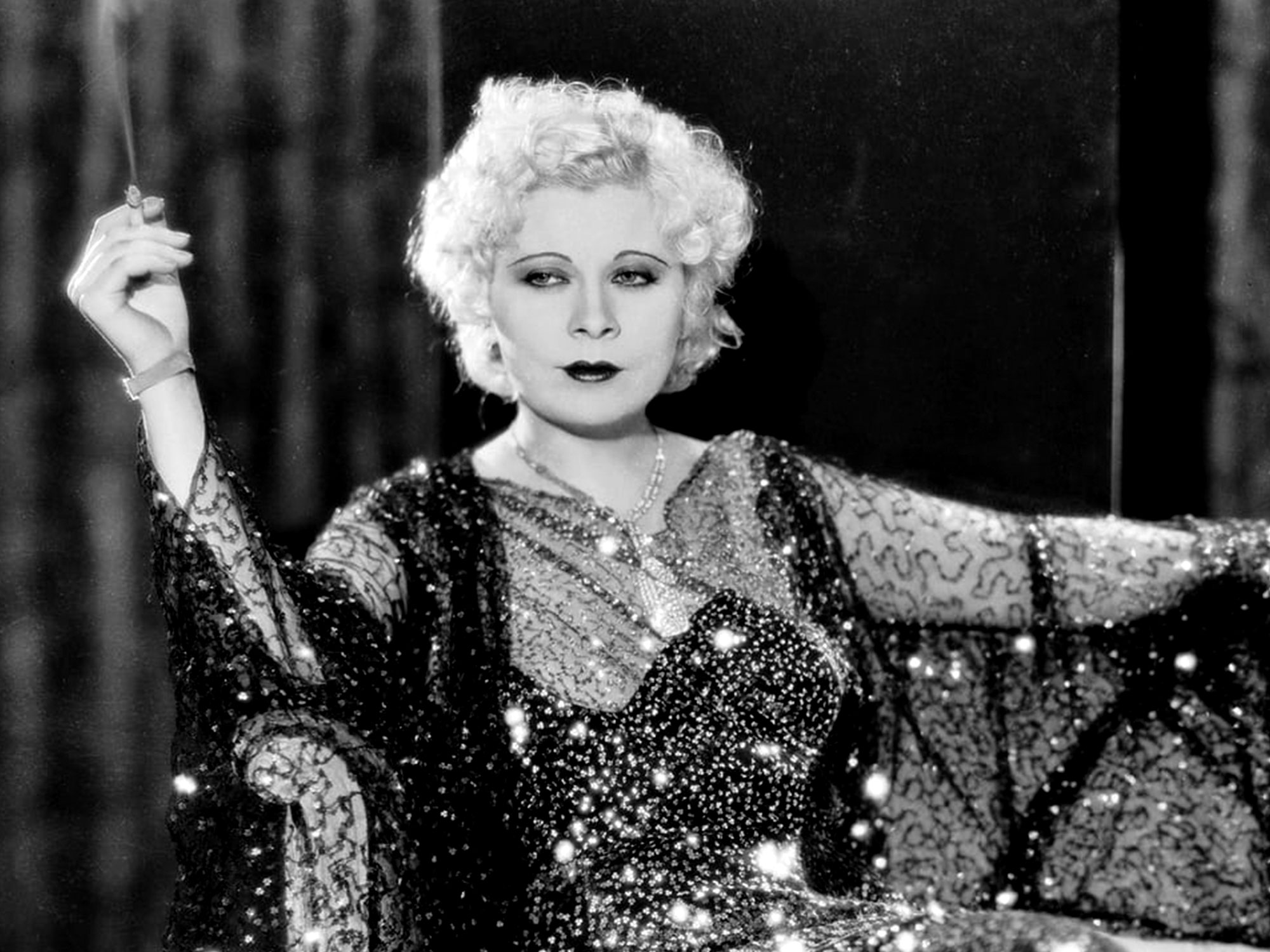 "When I'm good, I'm very, very good, but when I'm bad, I'm better." With her husky purr, platinum blonde curls, hourglass figure and exaggerated seven-inch-heel walk, Mae West was one of the most iconic sex symbols of 20th century cinema. The undisputed 'Queen of Camp', West's rapid-fire delivery, unbridled sexuality and liberal use of the double-entendre delighted and shocked audiences (and censors) during the 'pre-code' Hollywood era of the early 1930s.
An early pioneer of the women's liberation movement, West became an 'It' girl of the decadent Jazz Age through her bold and audacious image as the free-spirited, sexually permissive harlot "with the heart of gold". Despite making just 13 film appearances between 1932 and 1978, her sultry on-screen persona influenced a wide range of artists including Salvador Dalí, who created 'The Mae West Lips Sofa', and The Beatles, who immortalised her through Sir Peter Blake's artwork on the album cover of 'Sgt Pepper's Lonely Heart Club Band'.
Born Mary Jane "Mae" West in Brooklyn, New York on 17 August, 1893, she started her professional career in American vaudeville from the age of 14, later developing her skills as a performer and writer in sex comedies. But it was in 1926, that West first gained notoriety as the provocative writer and star of 'SEX' (working under the writing pseudonym of Jane Mast). Charged with obscenity, she revelled in her new status as the jezebel, spending eight days in prison to court publicity.
In 1932, following a period working on Broadway, West won a six-year contract with Paramount Studios at the relatively late age of 38. Securing fourth billing and writing credit in the George Raft crime drama Night After Night West debuted as the brassy beauty parlour owner, Maudie Triplett. When a hat check girl remarks to Maudie, "Goodness what beautiful diamonds," West retorts, "Goodness had nothing to do with it, dearie."
Raft later admitted that West, "stole everything but the cameras!" But it was in 1933 that West cemented her reputation in a double-bill with her protégé, a then-unknown bit part player by the name of Cary Grant. In She Done Him Wrong, she plays Lady Lou (based on her stage persona 'Diamond Lil'), a saloon singer and good time gal who falls under the spell of Grant's Missionary worker (and secret agent), Captain Cummings.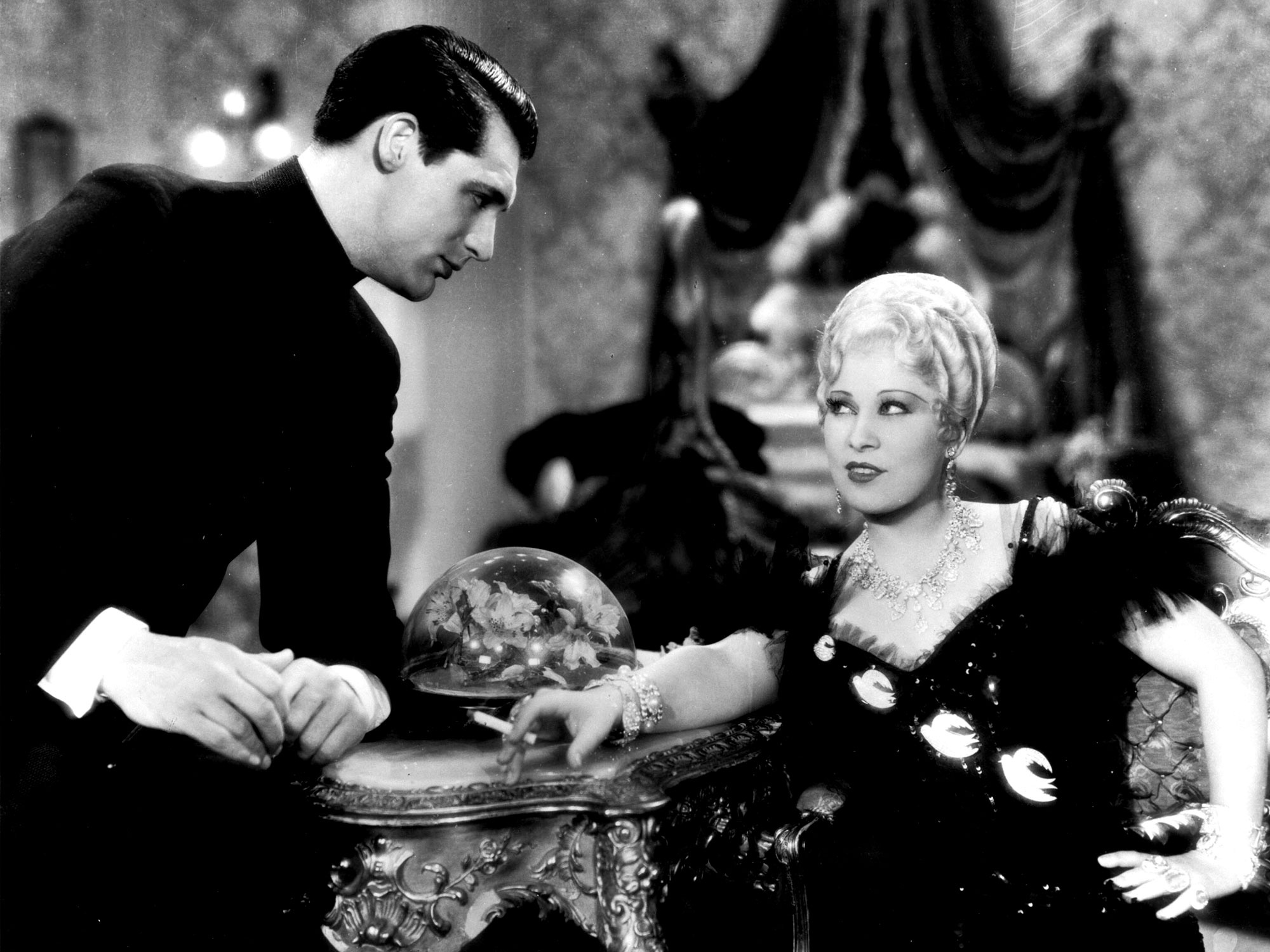 Lady Lou is on a mission – to seduce the debonair Cummings – and utterly fearless in her approach, leading to the immortal line, "Why don't you come up sometime and see me?" Grossing more than $2 million at the box office (equivalent to $140 million in today's money), West effectively saved Paramount from financial ruin at the end of The Great Depression. The studio heads repaid her by naming a studio lot in her honour and granted her full script approval as their highest paid star. West returned to play Tyra, a burlesque dancer and lion tamer in the comedy-drama I'm No Angel attracted to suave playboy Jack Clayton (played by Grant).
By 1935 West was the richest woman in America, commanding $300,000 a picture, a share of the profits and $100,000 for her writing. However, the stifling new presence of The Hays Code in 1936 ensured that West's scripts were heavily edited (despite her attempts to slip in risqué one-liners) by The Motion Picture Production Code. West also occurred the wrath of magnate William Randolph Hearst for her controversial depiction of religion and prostitution in Klondike Annie from 1936. She delivered a defiant response to the sanctimonious Hearst: "I used to be Snow White, but then I drifted."
After the commercial bomb of The Heat's On for Columbia Pictures in 1943 (without West's creative writing skills), she spent the next 27 years working as a cabaret artist, selling out Broadway and Las Vegas before she returned to the screen in 1970 to star in Gore Vidal's Myra Breckinridge. Dubbed "the worst movie ever made" by Variety, the production suffered from the growing froideur between West and co-star Raquel Welsh in the titular role of Myra, but the film gradually gained a cult following. As the octogenarian theatrical agent Leticia Van Allen using the 'casting couch treatment' on male actors, West doesn't disappoint in her suggestive musical number 'You Gotta Taste all the Fruit'.
In her final film, the comedy-musical Sextette, an 88-year-old West was cast as the 26-year-old Marlo Manners, a six-time married movie star, alongside Timothy Dalton as her devoted young husband, Sir Michael Barrington. Most critics rightfully considered the farce cruel and exploitative, with the film earning a measly $50,000 out of a $5 million budget. But West's star remains undimmed; a true trailblazer for female empowerment in a man's world.
The post How Mae West took on the Hollywood studio system appeared first on Little White Lies.