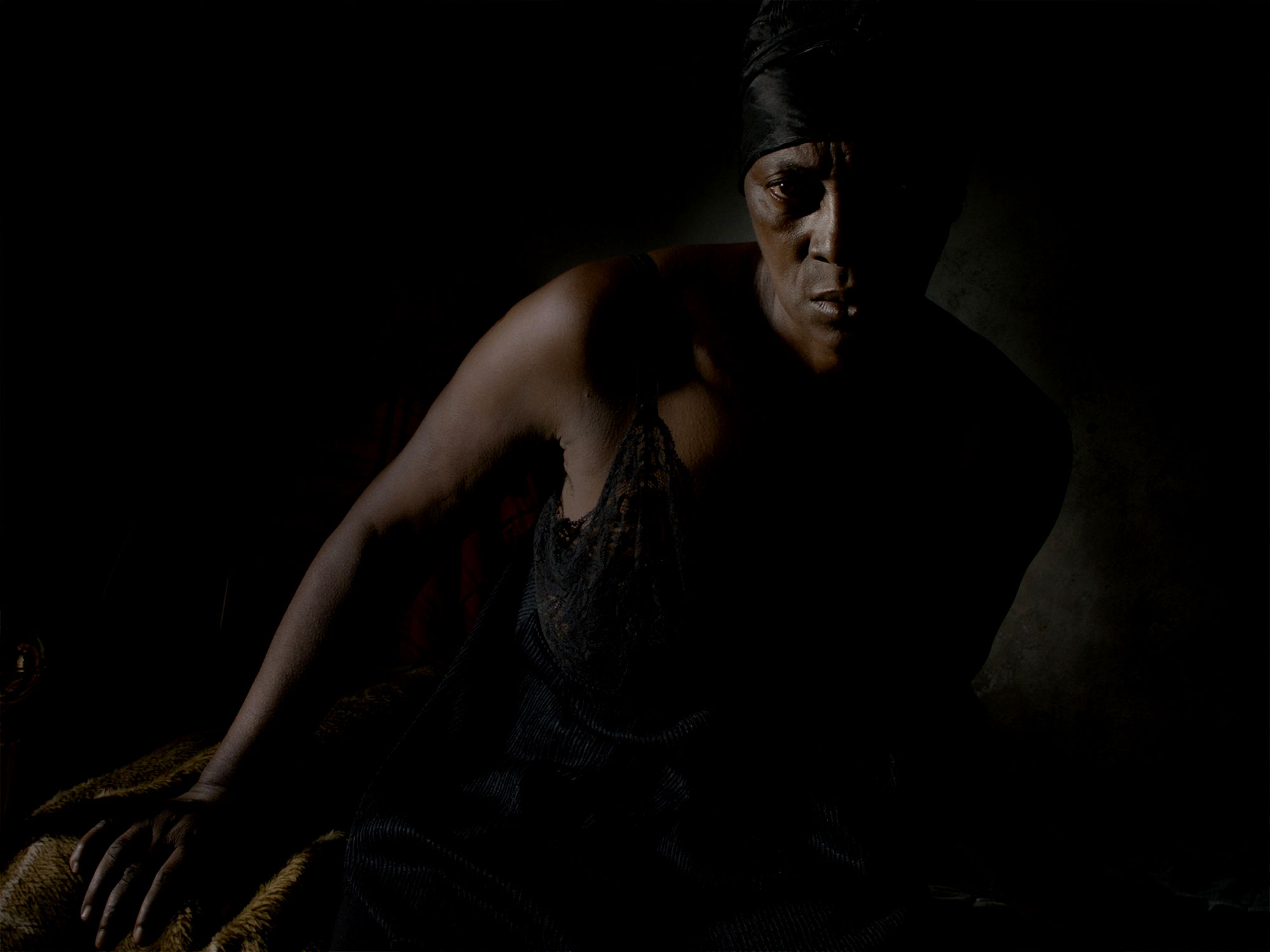 Trying to describe the cinema of Pedro Costa is like trying to describe why the quiet, private moments of a life are moving – like a person sitting on a bed lost in thought, or a person thoroughly sweeping the kitchen-floor of a recently deceased friend, or a person finally taking a plane from Cape Verde to Portugal, 40 years later than anticipated.
That latter person is Vitalina Varela, who arrives barefoot into Costa's cinematic universe, a setting at once theatrically removed from reality and pitilessly immersed in the worst of it. Once again, Costa has filmed in Fontainhas, a place well-known to his disciples and well-described in this excellent Criterion article. To summarise: it is the heart of deprivation, a slum populated by sorrow-eyed immigrants and natives on the fringes of Portuguese society, all thrust into the only environment that scraping by allows.
Costa lights and frames the occupants of this world with such majesty that they become kings and queens of the silver screen, stately beings who could well be the subjects of a coffee-table book of luxe photographs by a street poet like Diane Arbus. Where she mainly snapped white people, here Costa puts black skin in the spotlight – a spotlight which centres the actor and leaves the rest of the image shrouded in darkness.
This is a story about a woman coming to terms with being cosmically disappointed by her husband. Joaquim married a young Vitalina in Cape Verde, they spent 45 days together building a house until he hit the road and landed up in Portugal where he regularly promised to fly Vitalina over to join him. Only, he never did. She first sets foot in his adoptive land three days after he dies. "There's nothing here for you," a woman whispers, but Vitalina will not be moved. Having waited her whole life to come here, she has unfinished business. While her husband's body is no longer of this world, his spirit remains. She talks to him as she exists in his former living space. It's light-hearted repartee along the lines of: "Your death can't erase the evil you have done."
The men left behind clue Vitalina into the details of her husband's criminal life with a trajectory inextricably linked to the realities of residing at Fontainhas. She finds a companion in an elderly priest (Costa regular, Ventura). Spiritually raw moments with the priest break up scenes of her alone reckoning with a marriage brutally devoid of closure. Here, "till death do us part" takes on a very different meaning. A homeless couple, Ntoni (Manuel Tavares Almeida) and Marina (Marina Alves Domingues) visit, taking succour from her cooking. Their wretched energies and stories permeate and transform our sense of Joaquim's reasoning. Questions about a man seen only in photos hang heavy in the air: Why did he marry her? Only to leave her? But still stay in touch?
Dead men tell no tales, so Costa lets a breathing woman emerge at the fore. Vitalena channels dashed dreams of one day being reunited with her husband into renovating his shack. Living space is a motif, and the house that Joaq built is not a patch on the one they built together in Cape Verde once upon a time. In as much as weighty emotions and social observations abound, Costa's is a cinema of images. It's open season on intellectualising and making sense of the visual language, however, for this reviewer, the pleasure lay in receiving them in their raw state.
In one scene, Vitalena takes a shower in the tiny cubicle which happens to be behind wire bars. The camera shoots from outside these bars in one static wide as she massages her hair, eyes closed. This massaging continues for a soothingly long time, until a piece of powdery concrete comes loose and hits Vitalena on the head. It's not impactful enough to cause harm but it does give her pause, and the camera stays with her embedded in that pause.
The post Vitalina Varela – first look review appeared first on Little White Lies.